Business owners are exposed to risks that could have significant financial consequences if they are not adequately protected. Proper business insurance can help mitigate these risks and protect business owners from unexpected expenses.
Insurance coverage should include protection against accidents, natural disasters, and legal liabilities that may arise in the course of doing business. By obtaining the appropriate insurance, small business owners can reduce the risk of financial loss due to unforeseen circumstances.
So, what kind of small business insurance do owners need, and what does it cover? Here are a few helpful tips for choosing the right policy for your small businesses.
The Importance of Business Insurance
As a business owner, it is critical to evaluate your coverage needs thoroughly. In the event of a loss, you may have more personal financial exposure, making it crucial to have adequate insurance coverage.
Business insurance, also known as commercial insurance, covers a broad range of insurance policies designed specifically for businesses rather than individuals. These policies aim to protect financial assets and can help pay the costs associated with lawsuits, property damage, theft, vandalism, loss of income, employee injuries, and illnesses.
Insurance Options for Businesses
Choosing the best commercial insurance policy can protect you against claims, damages, and lawsuits that may occur. Most small businesses need to purchase at least the following five types of insurance.
1. Liability Insurance
Liability Coverage can help protect your company against claims for bodily injury, property damage, advertising injury, errors, or omissions. In addition, without this coverage, you may be responsible for paying out of pocket for legal costs, such as attorney fees and settlement amounts.
2. Workers Compensation Insurance
Workers Compensation gives employees benefits to help them recover from work-related injuries or illnesses. It can also benefit your employees' families if they die in a workplace accident. Factors such as job risk, claims history, and payroll size can affect workers' compensation costs.
3. Property Insurance
Property Insurance covers equipment, signage, inventory, and furniture in the event of a fire, storm, or theft. However, it doesn't cover mass-destruction events like floods and earthquakes. You'll need a separate policy if your area is at risk for these issues. According to the Federal Emergency Management Agency, about 40% to 60% of small businesses never reopen after a natural disaster.
4. Business Auto Insurance
Commercial Auto Insurance helps protect you and your employees on the road if you drive company-owned vehicles for business. In addition, it can help cover property damage and bodily injury claims from an accident your business causes.
5. Cyber Liability Insurance
Cyber Liability Insurance helps your business respond to a data breach if identifiable information gets lost or stolen personally. In addition, many policies will include extortion coverage, business income protection, and systems failure, all caused by a breach.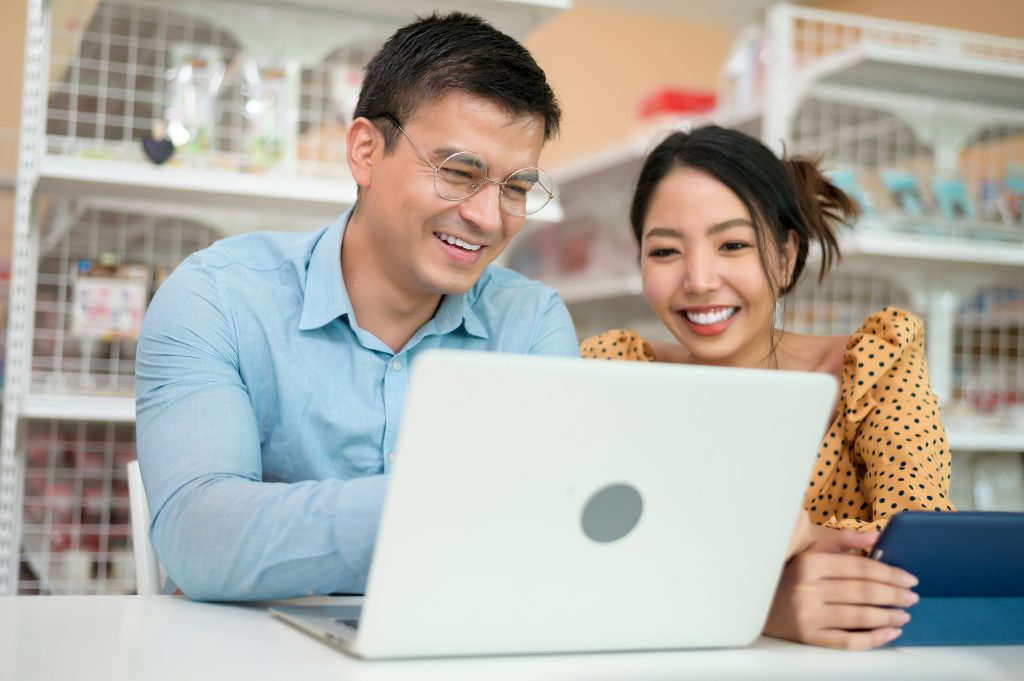 How Much Does Business Insurance Cost?
It's comforting to know that Mason-McBride is an Independent Agency, so we can shop and compare policies from multiple premium carriers to find you the right approach.
However, it is essential to remember that coverage and pricing will vary based on several risk factors and that no two businesses are the same.
Variables that can affect premiums include:
Size of business
Type of business and risk exposure
Location of business
Property and assets
Previous claims history
Steps to Buying Commercial Insurance
It might seem daunting at first to buy small-business insurance – especially if you're a new business owner – but the process can be made much more manageable if you break it down into these four steps: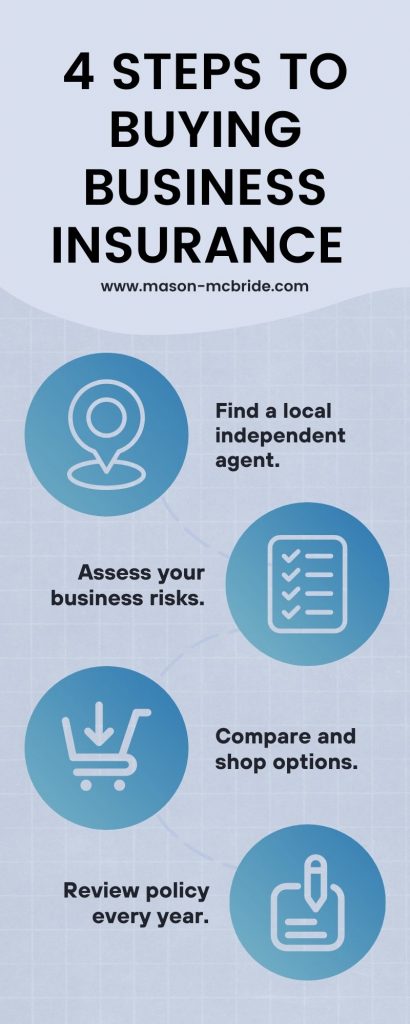 When to Reevaluate Your

Business Insurance
Regularly reviewing your insurance policy is crucial as a business owner. By conducting a yearly review, you can assess your business goals and potential risks to determine if you need to renew your policy or switch to another carrier. Additionally, significant changes in your company may require a reevaluation of your coverage.
If you are uncertain about the changes or adjustments needed for your policy, seeking guidance from an independent agent is recommended. They can assist in determining what coverage options can be customized to meet your specific business needs.
Your insurance policy is designed to protect your business, and it is crucial to ensure that your coverage keeps pace with your evolving business requirements. Working with a trusted independent agent can help you make informed decisions about your insurance coverage and adjust it as necessary.
Basics of Business Insurance: Key Takeaways
The right business insurance can help ensure that both your personal asset and business assets are protected against unexpected disasters.
Understanding your options when insuring your business is an essential first step in obtaining coverage. Speaking to insurance agents lets you determine what range makes sense for your business and compare terms and prices to find the best deal for you. Every business is different, so it's wise to talk to an insurance advisor to guide you through your various options. 
Take Action to Safeguard Your Company
Find out how Mason-McBride can help protect your business and request a proposal.
Article By Jamie Parry