Michigan small business owners face various risks. The right business insurance can protect you from the unexpected costs of running a business. Accidents, natural disasters, and lawsuits could run you out of business if you're not protected with the proper coverage. So, what kind of small business insurance do you need, and what does it cover? Here are a few helpful tips for choosing the right policy for your small business.
The Importance of Business Insurance
As a business owner, you don't have time for liability worries. Business insurance refers broadly to insurance coverages intended for businesses rather than individuals. Insurance for small businesses protects financial assets and can help pay the cost of lawsuits, property damage, theft, vandalism, loss of income, employee injuries, and illnesses. Therefore, it is essential for small business owners to carefully consider and evaluate their insurance needs because they may have more personal financial exposure in the event of a loss.
Types of Michigan Business Insurance: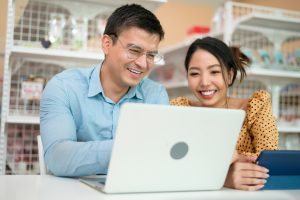 Business Insurance: How Much Should It Cost?
It's comforting to know that Mason-McBride is an Independent Agency, which means we can shop and compare policies from multiple premium carriers to find you the right policy. However, it is important to remember that coverage and pricing will vary based on a number of risk factors and that no two businesses are the same.
Variables that can affect premiums include:
Size of business
Type of business and risk exposure
Location of business
Property and assets
Previous claims history
Steps to Buying Business Insurance

Conclusion
The right Michigan business insurance can help ensure that both your personal asset and business assets are protected against unexpected disasters. Understanding your options when insuring your business is an essential first step in obtaining coverage. By speaking to insurance agents, you can determine what kinds of coverage make sense for your business and compare terms and prices to find the best deal for you. Every business is different, so it's wise to talk to an insurance advisor who can guide you through your various options. 
Does Your Business Need Coverage?
At Mason-McBride, our business insurance experts will identify your business' risks and create customized and appropriate coverage to reduce your exposure. Our experienced agents are located in Michigan and licensed in over 40 states.
For helpful tips on other popular topics, check out our articles on Commercial Crime Insurance, Ransomware Developments, and Cyber Insurance. We are always here to help you, your employees, and your business with all your insurance needs – from commercial insurance to group benefits to personal insurance. Thank you for allowing Mason-McBride to serve you!