While many of us look forward to a nice, long weekend with family and friends, Memorial Day is about much more than that. Aside from hamburgers and cocktails, Memorial Day is a time for remembrance and reflection of the many American lives lost while serving our country.
As you celebrate this weekend, be sure to stay safe in your homes and on the road by keeping these statistics in mind: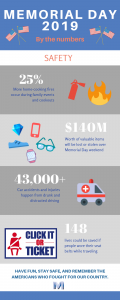 Have More Questions?
If you have any questions about your coverage, or to review your policy limits, please contact us. For helpful tips on other popular topics, check out our articles on Cyber Insurance, Winter Home Protection, and Ransomware Developments. As always, we are here to help you, your employees, and your business with all your insurance needs — from commercial insurance to group benefits to personal insurance. Thank you for allowing Mason-McBride to serve you!