Would you be covered if you were negligent or liable for someone else's injuries or death? Umbrella insurance is a stand-alone liability policy that provides an additional limit of liability over and above your underlying liability limits on your homeowners and auto insurance policies.
Even when we plan for the best, life can be unpredictable. This is where an umbrella policy comes in, providing you with a layer of liability coverage that goes above and beyond to protect your assets.
Benefits of Umbrella Coverage
A Michigan umbrella policy provides additional protection over and above its corresponding policy.
Say, for example, you are in a car accident. Your auto insurance will protect you up to your coverage limits, and umbrella insurance will kick in.
After an incident, you'll need to file a claim. Your carrier will hire an attorney to represent you during litigation and reimburse you accordingly. It's that simple.
Who Needs Umbrella Insurance?
Is this type of insurance something you need to consider as part of your insurance plan?
In short, yes, nearly everyone needs umbrella protection. Maybe you think umbrella insurance is only for people with a lot of money - false! There are many situations where these policies can provide extra safety, security, and peace of mind. Ask yourself these questions.
Do you:
• Own a home?
• Have savings, retirement accounts, or other assets?
• Have children at home?
• Have students at college?
• Own and drive a vehicle?
• Let others borrow your vehicle?
• Borrow someone else's vehicle?
• Own specialty vehicles, such as a motorcycle, recreational vehicle, boat, jet ski, ATV, or golf cart?
• Do you allow others to ride in, on, or operate your specialty vehicles?
• Own pets or other animals?
• Host parties and guests at your home?
• Volunteer your time and services to a charitable organization?
• Use or rent shared access to a lake, dock, or land?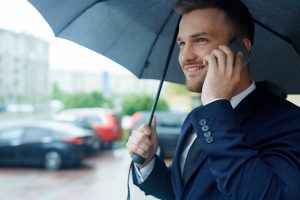 Umbrella Insurance Example Scenario
It helps to think about umbrella coverage in action to understand better what it is and how it would work. For example, you're held responsible for causing a car accident with multiple vehicles, and the damages and injuries total $850,000. But your Auto policy only covers $300,000. So you'd be responsible for the remaining $550,000 out of your pocket since your insurance would only pay $300,000.
However, an umbrella policy could extend your liability limits beyond your underlying policies. In this case, umbrella insurance would provide liability limits above the $300,000 limit of your auto policy up to the limit you choose for your Umbrella policy (typically anywhere from $1 million up to $5 million in coverage).
In other words, you wouldn't be left paying the remaining $550,000.
More Examples
your dog bites a neighbor's child
fire at your condo spreads to other units
accident at your rental property
How Much Does Michigan Umbrella Insurance Cost?
In a world where expenses skyrocket, it only makes sense to purchase umbrella insurance. Umbrella insurance is generally affordable, so it makes sense in most cases.
Most insurance carriers offer coverage starting at around $150 per year. Of course, your policy costs more if you have more cars and homes. However, for the most part, it's pennies on the dollar, and all the risk is on the insurance company. So even if your premium was $300/year, the insurance company is on the hook for at least $1 million.
Work With an Independent Agent 
Since each insurance company has different rates and types of coverage, getting quotes from multiple carriers can help you find the best fit for your needs and budget.
The great thing about Mason-McBride is that we are an independent insurance agency. We represent multiple insurance companies, so our primary focus is on you, not the carrier. As a result, we can offer you a variety of insurance product comparisons provided by reputable insurance companies.
Ready for a Quote From a Michigan Agent?
Get an online quote, or call our office at (248) 822-7170.