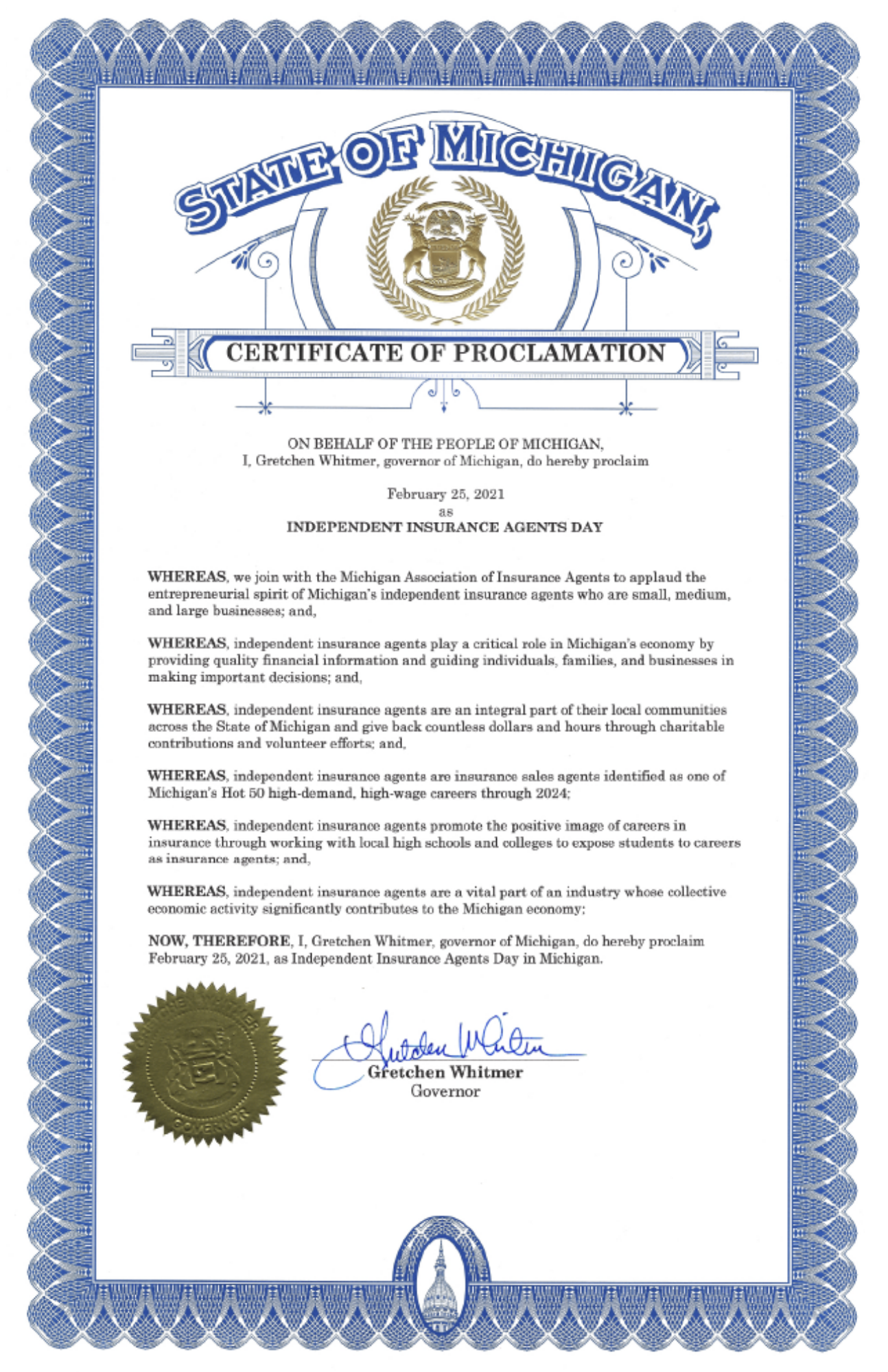 Michigan Governor Gretchen Whitmer has proclaimed February 25, 2021, as Independent Insurance Agents Day! At Mason-McBride, we're proud to be independent insurance agents and serve our commercial lines, personal lines, and group benefits clients!
Here is how the proclamation reads:
WHEREAS, we join with the Michigan Association of Insurance Agents to applaud the entrepreneurial spirit of Michigan's independent insurance agents who are small, medium, and large businesses; and,
WHEREAS, independent insurance agents play a critical role in Michigan's economy by providing quality financial information and guiding individuals, families, and businesses in making important decisions; and,
WHEREAS, independent insurance agents are an integral part of their local communities across the State of Michigan and give back countless dollars and hours through charitable contributions and volunteer efforts; and,
WHEREAS independent insurance agents are insurance sales agents identified as one of Michigan's Hot 50 high-demand, high-wage careers through 2024;
WHEREAS, independent insurance agents promote the positive image of careers in insurance through working with local high schools and colleges to expose students to careers as insurance agents; and,
WHEREAS, independent insurance agents are a vital part of an industry whose collective economic activity significantly contributes to the Michigan economy;
NOW, THEREFORE, I, Gretchen Whitmer, governor of Michigan, do hereby proclaim February 25, 2021, as Independent Insurance Agents Day in Michigan
Why Work with an Independent Insurance Agent?
When researching insurance experts, you'll run into independent and captive agents. A captive agent is an insurance agent that works for one insurance company. An independent agent represents multiple insurance companies, which means their most significant interest is you, not the carrier.
Independent agents have your best interest in mind. We don't benefit from the carrier selling you a policy; we benefit from finding you the insurance coverage you need at an affordable price. What separates us from the rest is our ability to service our policyholders proactively, our knowledge of the industry, products, and different situations that may present themselves to our clients
Get an Insurance Quote Started
If you'd like to get started with a complimentary proposal and policy review, we'd be happy to help. Get a quote started online, or give your office a call (248) 822-7170. The team at Mason McBride is pleased to assist.
For helpful tips on other popular topics, check out our articles on Cyber Insurance, Winter Home Protection, and Ransomware Developments. As always, we are here to help you, your employees, and your business with all your insurance needs — from commercial insurance to group benefits to personal insurance.