If you're concerned about the rising costs of home and auto insurance premiums, you are not alone.
Inflation has affected the prices of nearly every good and service on the market, and home and auto insurance costs are no exception. So when rates go up, it's common for our clients to assume insurers are price-gouging consumers, but that's not necessarily true.
In this article, we'll explain how inflation affects your home and auto insurance and why you might need to reevaluate your coverage.
How Inflation Impacts Auto Insurance
When you purchase auto insurance, you protect yourself against various risks, such as the damage you may cause to your vehicle in a collision.
Today, if your car is damaged in an accident, paying for the labor and materials needed to make repairs is more expensive. Since repair costs have increased, insurance carriers are increasing their coverage rates accordingly.
According to Citizens Hanover, auto repair costs have risen by an estimated 15%. In addition, there has been an 8.2% rise in hourly labor for automotive repairs and a 30% increase in rental car prices.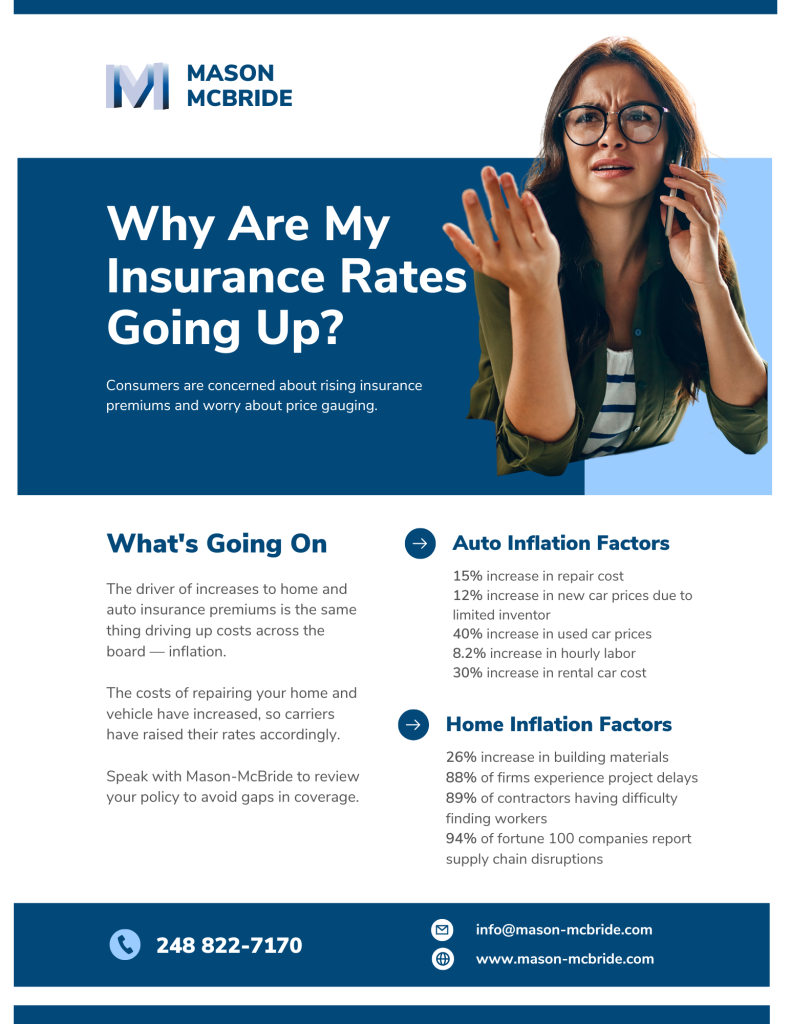 How Inflation Impacts Home Insurance
There is a longstanding belief that homes are insured at market value. However, in reality, your house's insured value is determined by the cost of rebuilding in the event of a total loss.
Since home insurance coverage is based on the replacement price, and material and labor costs have increased, insurance companies have increased rates accordingly.
According to Citizens Hanover, building materials have risen 26%, and 89% of contractors say finding workers is difficult. Furthermore, 94% of Fortune 100 companies report problems with their supply chains.
In addition to rising prices, some carriers automatically reevaluate dwelling coverage, with increases sometimes reaching over $100,000. For this reason, discussing your home's recent upgrades with your agent is especially important. You could miss out on significant coverage without an accurate and up-to-date home description.
Now is also a good time to look at the scheduled personal property items on your homeowners' policy. Speaking from personal experience, I often see appraisals of personal property items placed far below the current market value. Therefore, obtaining appraisals on treasured items such as jewelry, furs, fine arts, and collections is important to protect you against undervalued limits.
Why It's Time to Reevaluate Your Policy
Now that you know how inflation affects your home and auto insurance, it's time to review your policy to ensure it still suits your needs.
If it's been a while since you've reviewed your coverage, chances are you are underinsured. This is especially true if you've made significant life changes, such as getting married, having children, or purchasing a new home or automobile, since your last policy review.
Cost Management Tips
Regarding strategic cost management decisions, some carriers provide discounts by combining an extra insurance policy known as an umbrella policy, which, in some cases, could reduce your premium while providing more protection.
Teen drivers can cause an increase in premiums, and many carriers offer discounts related to being a "Good Student." For example, insurance providers offer good student discounts to students who can provide proof of eligibility, such as a report card, that they are earning good grades (often a "B" average).
When purchasing a car, a factor that should be considered is the vehicle's safety rating. As an example, being able to find a competitive rate for a family sedan is typically easier than finding a competitive rate for a high-performance vehicle.
If you have an alarm system in place (or plan to), please inform your insurance agent. Certain alarm systems may qualify for a discount on your homeowner policy.
Finally, choosing a preferred payment method and going "paperless" are two more ways to find additional savings.
Conclusion
It has been a record period for inflation, and it does not seem to be slowing down anytime soon. Therefore, although premiums continue to rise, you might consider increasing your coverage limits to prevent being underinsured.
After all, it can be reassuring to know you're financially protected by reducing your risk of out-of-pocket expenses in the event of an accident.
For helpful tips on other popular topics, check out:
Article By: Sean Rosler