Multi-Factor Authentication sometimes referred to as two-factor authentication, is a cybersecurity measure that requires users to confirm multiple factors verifying their identity before accessing a network or system.
Generally, users must provide a password, verify access by inputting a code sent to another device or confirm access with biometric data such as a fingerprint. Unfortunately, those hesitant to adopt two-factor authentication are often under this misconception that it requires the purchase of additional external hardware or are concerned about potential user disruption. While it's true that multi-factor authentication can require users to take an extra step or two at login, it's not complicated and doesn't always require buying new hardware.
Why Multi-Factor Authentication Matters
Two-factor authentication is a vital layer of protection against first-party losses and business interruption that can result from a cyberattack. Unfortunately, while the last year's economic turmoil impacted companies of all sizes, the hit taken by many mid-sized companies and small businesses can make it tempting to skip improving cybersecurity or buying cyber insurance.
How Multi-Factor Authentication Protects
Agents see ransomware or social engineering claims hit almost weekly. Over the last 18-24 months, the rate of ransomware attacks has skyrocketed in both frequency and severity, driving significant changes in the cyber insurance marketplace. Such suits can cost hundreds of thousands of dollars and require pricey forensic investigations that take several weeks to complete. In addition, such attacks often start with compromised passwords or login IDs. For a deeper dive into Multi-Factor Authentication, check out our E-Book.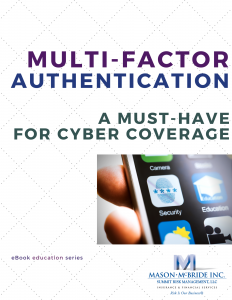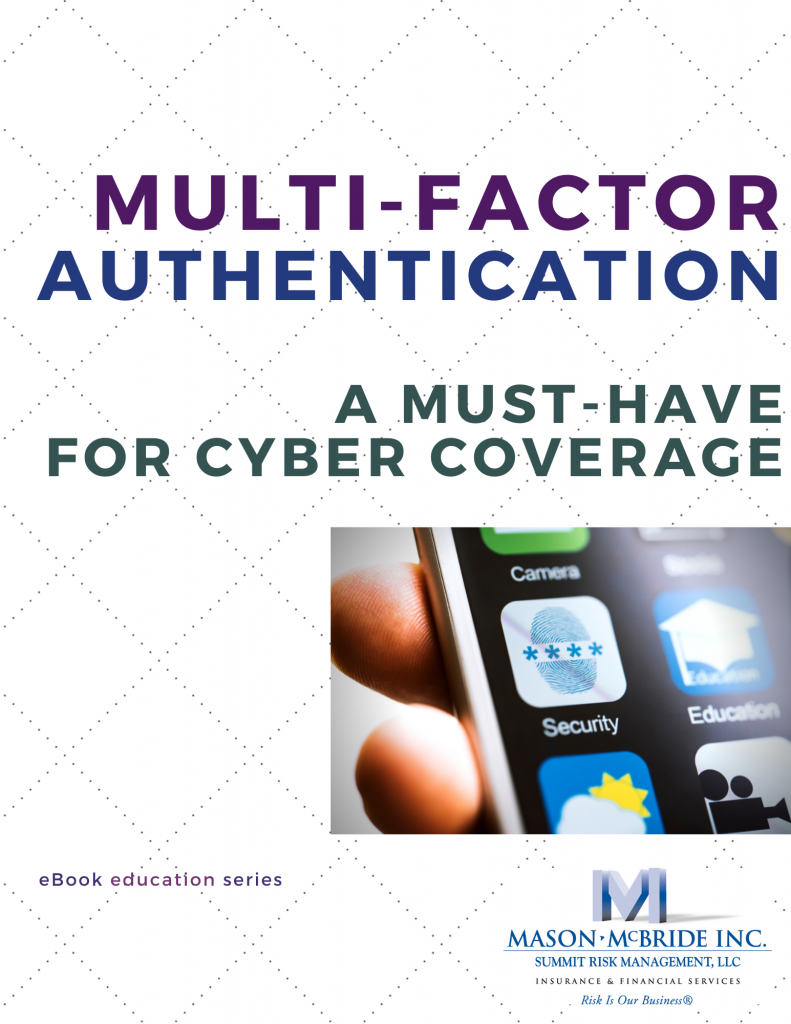 Click to Download:2021-10-05.eBook Multi-Factor Authentication.V2
What Are the Benefits of Cyber Liability Insurance?
Security and privacy risks can be managed by organizations through practices, policies, procedures, but businesses must also purchase insurance to protect themselves. With cyber insurance, cyber experts, including forensic experts, attorneys, breach response specialists, and credit monitoring companies, can respond quickly to social engineering attacks. Cyber insurance is also a cost-effective way to protect corporate balance sheets from losses not typically covered by traditional insurance policies. Cyber insurance also extends to third-party claims alleging unauthorized disclosure of personal information or other confidential information in addition to first-party costs such as forensic investigation and notification.
Want to Learn More?
If you have any questions about Commercial Insurance or review coverage options, please contact us.
For helpful tips on other popular topics, check out our articles on Commercial Crime Insurance, Ransomware Developments, and Cyber Insurance. As always, we are here to help you, your employees, and your business with all your insurance needs – from commercial insurance to group benefits to personal insurance. Thank you for allowing Mason-McBride to serve you!