In short, yes. Having a flood insurance policy is imperative!
Flooding is the most common natural disaster in the United States, and Michigan is no exception. In fact, the Federal Emergency Management Agency (FEMA) estimates that there is a 26% chance of experiencing a flood during the life of a 30-year mortgage.
The best way to protect your home and belongings from flood damage is to purchase flood insurance. In this article, we will explore the top reasons why flood insurance is essential and provide insights to help you make an informed decision.
1. Flooding: A Major Natural Hazard
According to FEMA, floods rank as the number one natural disaster in the United States. Surprisingly, there is a 26% chance of experiencing a flood during the life of a 30-year mortgage. This is one reason why having flood insurance in Michigan is so important!
2. Homeowners Insurance Exclusions
All it takes is a few inches of water to cause major damage to your home and the contents inside. One common misconception is that homeowners insurance policies automatically cover flood damage. This is typically not the case and often flood insurance in Michigan has to be purchased as a separate, stand-alone policy.
Flood insurance policies can not only provide coverage for property damage but also reimburse you for expenses incurred while protecting your home, such as sandbagging, moving furniture, and removing debris.
3. Understanding Your Flood Zone
Every house in the country is located in a FEMA flood zone, but not all flood zones are treated equally. There are high and low-risk areas, and you can use the FEMA Flood Map Service to understand the flood risk in your area better.
If you live in a high-risk flood zone, your mortgage company may require you to purchase flood insurance. Even if you live in a low-risk area, it's still a good idea to consider purchasing a flood insurance policy to protect your home.
4. Financial Value of Flood Insurance
Contrary to popular belief, flood insurance is often more affordable than people assume. If you reside in a moderate- to low-risk area, you might qualify for a Preferred Risk Policy, which offers the lowest premiums available.
The potential consequences of floods, such as having to relocate, losing personal belongings, and facing the financial burden of finding a new home, are genuine and should not be underestimated. The cost of flood insurance depends on various factors, such as your location and the coverage amount you select. Your insurance agent is the best resource to help you determine the availability, necessity, and cost of flood insurance tailored to your specific circumstances.
Questions to Ask When Buying Flood Insurance
The best part about working with an Independent Agent in Michigan is that we are always in your best interest, no matter what. We have the knowledge and expertise to get you the best policy that fits your needs. Here are some great questions to ask about flood insurance policies:
What flood zone do I live in?
What's exactly covered in my flood insurance policy?
What should I do if I have to make a claim?
How can I pay for my policy?
Are there any additional expenses?
How long does it take for my Flood insurance to go into effect?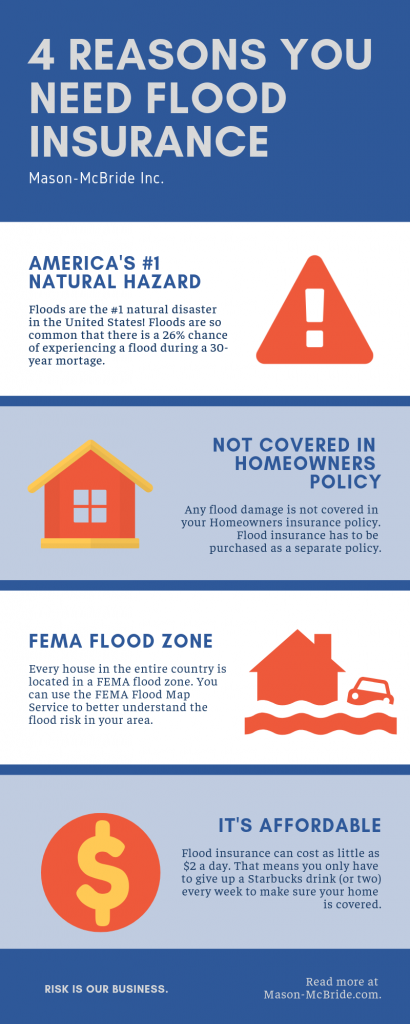 Floods Can Happen Anywhere
Remember, floods can happen anywhere, and even properties outside designated high-risk flood zones are susceptible.
It is better to be prepared than to assume your home is safe solely based on its location. By taking proactive steps and obtaining flood insurance, you can mitigate the potential devastation caused by flooding and gain peace of mind knowing that your home and belongings are protected.
Consult an Independent Insurance Agent
The best part about working with an independent agent is that they are always in your best interest and have the knowledge and expertise to get you the policy that fits your needs.
Mason-McBride is a trusted independent insurance agent in Michigan, offering a variety of flood insurance options from highly-rated insurance companies.
Contact us to request a proposal.
For helpful tips on other popular topics, check out: