In short, yes, absolutely, 100%. Having a flood insurance policy is imperative to ensure that your house is fully covered, and with spring on the way, there is plenty of rain in the forecast.
We don't expect you to just take our word for it, though; here are the top 4 reasons to purchase a flood insurance policy:
Flooding is America's #1 natural hazard
According to the Federal Emergency Management Agency, FEMA, floods are the #1 natural disaster in the United States. Floods are so common that there is a 26% chance of experiencing a flood during the life of a 30-year mortgage. This is one reason why having flood insurance in Michigan is so important!
Homeowners Insurance does not cover flood damage
Flood insurance in Michigan has to be purchased as a separate, stand-alone policy. It is not covered by your Homeowners insurance policy. This common misconception across the state puts many homeowners at risk. Another reason why a flood insurance policy is a no-brainer. These policies reimburse you for any work completed to protect your home, such as: sandbagging, moving furniture, and removing debris.
Your home is in the FEMA flood zone
That's right. Every single house in the entire country is in a FEMA flood zone. However, not all flood zones are treated the same; there are high and low risk areas. You can use the FEMA Flood Map Service to understand the flood risk in your area better.
If you live in a certain flood zone, your mortgage company may require that you purchase a Flood insurance policy. If you live outside high-risk zones, Flood insurance policies are typically optional. Either way, the best option to ensure the safety of your home is to purchase a flood insurance policy.
Flood Insurance is Affordable
If you live in a low-risk zone, Flood insurance typically costs as little as $2 a day. All you have to do is give up a couple of Starbucks drinks a week to protect your home! On average, a Flood insurance policy costs about $700 a year, which may seem daunting at first, but the alternatives are far worse than the upfront costs.
Moving out, losing your personal belongings, and paying for a new home are all genuine consequences of floods. The overall cost of flood insurance will depend on your area and how much coverage you decide to buy, but overall it's an affordable policy worth the peace of mind it brings.
Ask the right questions before buying Flood Insurance in Michigan
The best part about working with an Independent Agent in Michigan is that we are always in your best interest, no matter what. We have the knowledge and expertise to get you the best policy that fits your needs. Here are some great questions to ask about Flood insurance policies:
What flood zone do I live in?
What's exactly covered in my flood insurance policy?
What should I do if I have to make a claim?
How can I pay for my policy?
Are there any additional expenses?
How long does it take for my Flood insurance to go into effect? (30 days, just so you know.)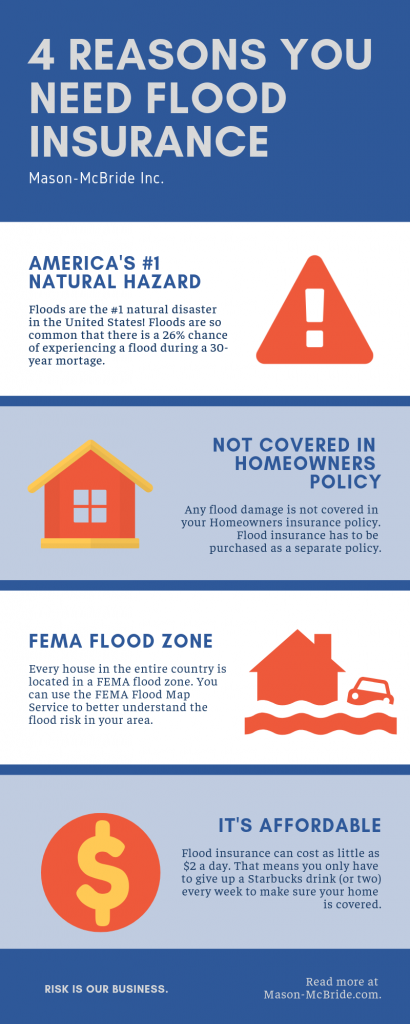 How much does Michigan Flood Insurance cost?
A few factors, including: determine flood insurance costs
Location: You can expect a higher cost if you live in a flood-prone area. In a low-risk flood zone, the cost will probably be much lower.
Type of coverage: Personal belongings, buildings, or both may be covered by flood insurance policies. Your policy will be more expensive if you choose more coverage.
You can learn more about your coverage and price options by speaking with an agent at Mason-McBride. As part of our commitment to providing quality coverage at an affordable price, Mason-McBride has partnered with a carefully selected group of highly-rated insurance companies.
Take Action to Safeguard Your Home
Find out how Mason-McBride can help safeguard your home and request a proposal.
For helpful tips on other popular topics, check out articles on: