How would your small business respond if you made a mistake that cost your client thousands of dollars? Or, even more troubling, what if a customer sues you for losses you didn't cause?
Professional liability insurance, also known as Errors and Omissions (E&O) coverage, is designed to protect you from claims that the professional advice or services you provided caused a client financial loss due to error or failure to perform a service.
When deciding if professional liability makes sense for your business, there are several factors to consider. This article will explore the possible reasons for considering this type of coverage.
What Does a Professional Liability Policy Protect?
A professional liability policy, also known as errors and omissions coverage (E&O), is designed to protect professionals who may be sued for negligence, common mistakes, omissions, or misrepresentation.
Professional liability can cover instances when you did something you shouldn't have done (an error) or instances when you didn't do something you should have done (an omission).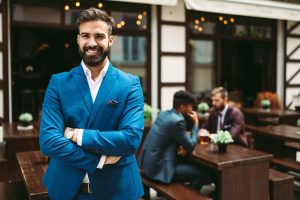 Real-Life Claim Example
For example, let's consider this scenario involving a claim made against a law firm:
In this example, the insured law firm provided legal services in a matter involving a commercial loan. The loan was intended to be non-recourse, which means the client could not be held personally liable if they defaulted. However, the loan defaulted, and the note was sold to another lender.
The new lender sued the client. An issue over the translation of the loan contract, which the law firm drafted, came up in court, and the court determined that the contract was unambiguous and that the law firm had made an error.
A claim was later filed against the law firm for the settlement amount and $465K in related attorneys' fees. Overall the matter was resolved for an expense of approximately $800,000.
The scenario above demonstrates that even careful legal professionals can make errors leading to a client lawsuit. However, in this case, professional liability insurance coverage prevented the law firm from incurring out-of-pocket costs that could have put the firm out of business.
Who Needs Professional Liability Coverage?
The following professions are candidates for professional liability as detailed by trusted choice:
Anyone who charges clients for advice, or a service, needs professional liability insurance. Here's why:
Because your clients may expect you to have a professional liability policy (and a certificate to prove it) before they work with you.

Because clients can sue you, whether you made a mistake or not.

Because even if a case has no grounds, you still have to defend yourself. Not just because a negligence claim can damage your reputation. But because you'll end up with a default judgment if you don't. And that means you'll have to pay whatever your client says you owe.

Because unless you're a legal expert, you'll need an attorney, and lawsuits are expensive. Expensive. Legal fees, court costs, and compensation can run to 5, sometimes even six figures. And without professional liability insurance, you'll have to foot the bill yourself.

Because defending a claim doesn't just create stress and cost you money; it takes up your time.
Is Professional Liability the Same as
E&O

Insurance?

Errors and omissions (E&O) and professional liability insurance offer identical coverage. However, while the two policies are the same, different industries use different terms to refer to the same coverage.

In other words, depending on your line of business, you may hear the term errors and omissions insurance for professional liability. However, there is no difference in these coverages.
General Liability vs. Professional Liability – What's The Difference?
Comparing general liability insurance and professional liability insurance may help you decide what policy or policies to consider for your organization. Each provides protection for different exposures.
General liability protects your business against various claims, including bodily injury, personal injury, property damage, and reputation harm.
For example, imagine a customer slipping and falling inside your business due to a wet floor. The customer could sue for the medical bills related to their injuries. General liability insurance could help cover costs in this instance.
On the other hand, professional liability insurance protects those who provide advice or services.
Consider, for instance, if a client were to lose thousands of dollars due to a service provider's clerical error. The client may sue in this case, and professional liability insurance could help cover legal costs.
Determining Liability Coverage Needs
You may find this illustration helpful in understanding how coverage needs are determined: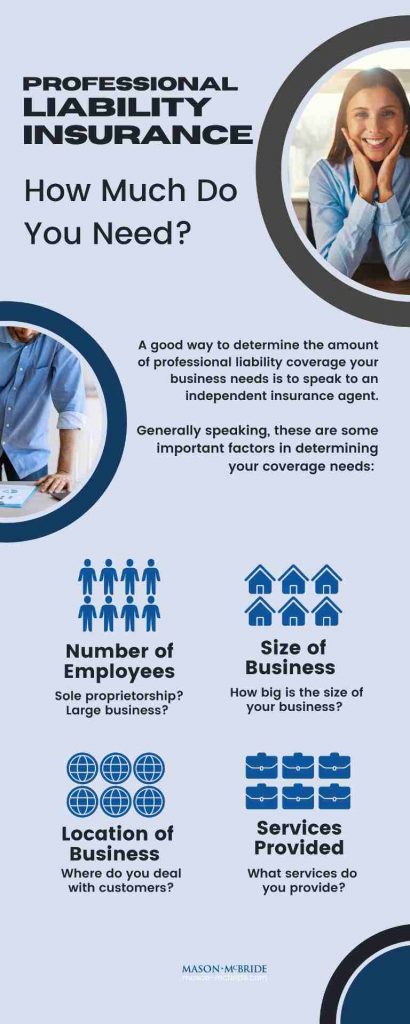 Other Considerations
Many professional practices require liability insurance by state law, and your clients may require you to carry this type of coverage.
Remember that professional liability insurance is only one type of business insurance coverage, and you may have liability risks that go beyond the scope of professional liability coverage.
Take Action to Safeguard Your Company
Find out how Mason-McBride can protect your business and request a proposal.
For helpful tips on other popular topics, check out commercial articles on
Claim Scenario provided by CNA
Article By Jamie Parry