Professional liability insurance (also known as "errors and omissions" or "practical liability" insurance) is an important risk management tool for many professionals.
Suppose you're a healthcare professional, lawyer, accountant, engineer, consultant, real estate agent, or any other sort of professional who works for a client on a regular basis. In that case, you may want to consider purchasing this type of coverage.
When deciding if professional liability makes sense for you, several factors must be considered. In this blog post, we will explore the pros and cons of professional liability insurance.
Defining Professional Liability Insurance
Professional liability insurance is a type of coverage that can protect against claims and lawsuits related to the work you perform. The claims may arise from a mistake, something you didn't do correctly, or something you improperly performed.
In other words, professional liability can cover instances when you did something you shouldn't have done (an error) or when you didn't do something you should have done (an omission).
Professional liability policies typically fall into three categories: errors and omissions, malpractice, and executive liability, Errors and Omissions (E&O) Insurance.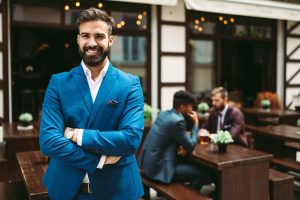 How Professional Liability Insurance Works in Real-Life Scenarios
For example, let's consider this scenario involving a claim made against a law firm:
In this example, the insured law firm provided legal services in a matter involving a commercial loan. The loan was intended to be non-recourse, which means the client could not be held personally liable if they defaulted. However, the loan defaulted, and the note was sold to another lender.
The new lender sued the client. An issue over the translation of the loan contract, which the law firm drafted, came up in court, and the court determined the contract was unambiguous and that the law firm had made an error.
A claim was later filed against the law firm for the settlement amount and $465K in related attorneys' fees. Overall the matter was resolved for an expense of approximately $800,000.
This scenario demonstrates that even careful legal professionals can make errors leading to a client lawsuit. However, in this case, professional liability insurance coverage prevented the law firm from incurring out-of-pocket costs that could have put the firm out of business.
Claim Scenario provided by CNA
Professions That Benefit from Professional Liability Insurance
The following professions are candidates for professional liability as detailed by trusted choice:
Anyone who charges clients for advice, or a service, needs professional liability insurance. Here's why:
Because your clients may expect you to have a professional liability policy (and a certificate to prove it) before they work with you.

Because clients can sue you, whether you made a mistake or not.

Because even if a case has no grounds, you still have to defend yourself. Not just because a negligence claim can damage your reputation. But because you'll end up with a default judgment if you don't. And that means you'll have to pay whatever your client says you owe.

Because unless you're a legal expert, you'll need an attorney, and lawsuits are expensive. Expensive. Legal fees, court costs, and compensation can run to 5, sometimes even six figures. And without professional liability insurance, you'll have to foot the bill yourself.

Because defending a claim doesn't just create stress and cost you money; it takes time.
Unpacking the Differences: Professional Liability Vs. E&O Insurance
Errors and omissions (E&O) and professional liability insurance offer identical coverage. However, while the two policies are the same, different industries use different terms to refer to the same range.
In other words, depending on your line of business, you may hear the term errors and omissions insurance for professional liability. However, there is no difference in these coverages.
Choosing a Professional Liability Policy
Before you purchase a professional liability policy, you should first make sure you understand your state's licensing rules. This way, you'll know what your state's requirements are and which policies you can actually qualify for.
An independent insurance agent can best help you navigate your options and find a policy that works for you. However, before you sign on the dotted line, make sure you read your policy in full and understand exactly what coverage you're receiving.
You may find this illustration helpful in understanding how coverage needs are determined: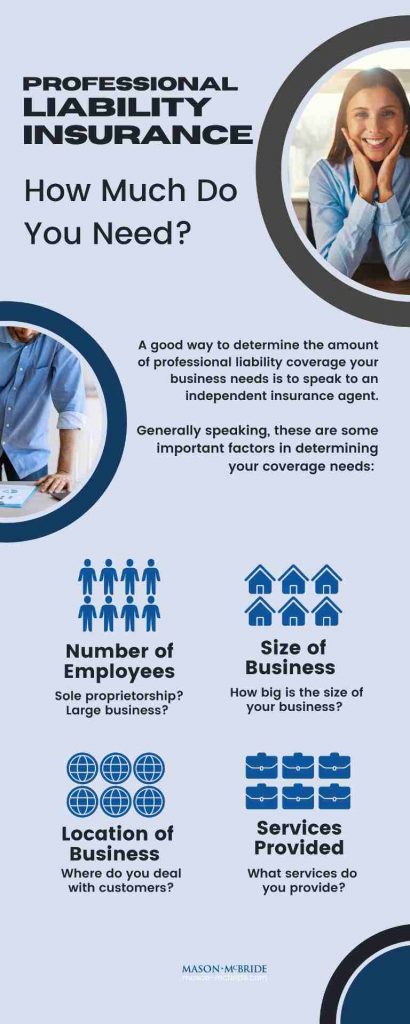 Final Thoughts: Why Professional Liability Insurance is Essential
The bottom line is that professional liability insurance is not a luxury. It's a necessity for many professionals, especially those in fields that are more prone to litigation.
While it does come with a cost, this type of coverage can be incredibly helpful in the event that someone decides to sue you.
Take Action to Safeguard Your Business
Find out how Mason-McBride can protect your business and request a proposal.
For helpful tips on other popular topics, check out commercial articles on
Article By Jamie Parry