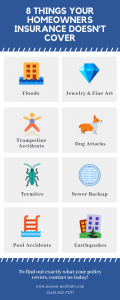 Looking at the list, it may seem like homeowners insurance doesn't cover anything at all, but that's not true! Every policy is unique, so it's important to discuss your coverage limits in detail with your agent.
Homeowners insurance doesn't cover most natural disasters, but dwelling coverage may help repay or rebuild your home if your home is damaged. Dwelling coverage can include fire, smoke, wind, lightning, and hail damage.
Other coverages that may be included in your policy are Other Structures, Personal Property, and Liability coverage. These coverages will protect sheds, fences, furniture, electronics, a guest's medical expenses, and legal expenses if you are sued- to name a few.
It can be confusing to juggle this all on your own; that's why the team at Mason-McBride is here to help! If you are looking for an insurance quote or have a question about your current policy, contact one of our agents today.
Get Started Today
If you have any questions about your Homeowners Insurance or to review your policy limits, please get in touch with us. For helpful tips on other popular topics, check out our articles on Cyber Insurance, Winter Home Protection, and Ransomware Developments. As always, we are here to help you, your employees, and your business with all your insurance needs — from commercial insurance to group benefits to personal insurance. Thank you for allowing Mason-McBride to serve you!