If you have a homeowners insurance policy, you're covered for a lot of things. However, it doesn't cover everything.
Home insurance is designed to protect you from the unexpected and understanding how you're covered can give you confidence in the coverage you pay for. However, it is important to understand what is and isn't covered by your home insurance policy in order to avoid filing claims that will not be covered.
Here are some things your basic home insurance policy doesn't cover, and some ways you can add coverage for those unforeseen events.
Things Not Covered by Homeowners Insurance
A standard homeowners insurance policy will not cover damage to your home that is not sudden and accidental.
For example, wood rot may take months to develop but will not be covered if it occurs. Age and poor maintenance are also excluded. There are also several types of damage that are usually excluded from standard homeowners insurance policies. For example, flood damage is unlikely to be covered. Moreover, pests and problems under the foundation are not covered either.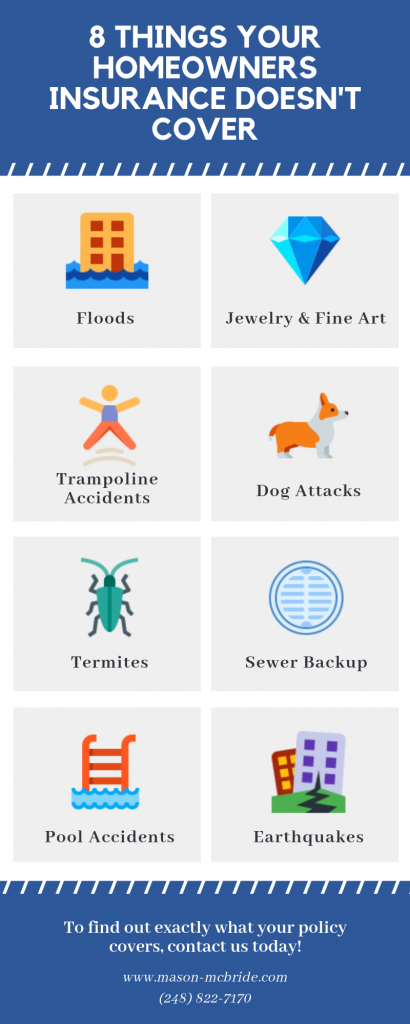 Looking at the list, it may seem like homeowners insurance doesn't cover anything at all, but that's not true! Every policy is unique, so it's important to discuss your coverage limits in detail with your agent.
Homeowners insurance doesn't cover most natural disasters, but dwelling coverage may help repay or rebuild your home if your home is damaged. Dwelling coverage can include fire, smoke, wind, lightning, and hail damage.
Other coverages that may be included in your policy are Other Structures, Personal Property, and Liability coverage. These coverages will protect sheds, fences, furniture, electronics, a guest's medical expenses, and legal expenses if you are sued- to name a few.
Added Coverage for Unforeseen Events
You can buy additional coverage for your specific needs by adding endorsements (also called "riders") to your homeowners insurance policy in addition to the basic coverage offered by it. An endorsement modifies the terms of the basic policy by adding a specific kind of coverage or changing a limit on an area of coverage.
Some homeowners add endorsements such as:
Guaranteed replacement cost coverage: If the dwelling coverage limit on your policy does not cover the loss to your home, the insurer will pay the difference.
Refrigerated property coverage: Coverage for property in refrigerators and freezers on the premises that is damaged by specific events (e.g., a utility interruption). There is typically a maximum coverage limit and a special deductible.
Scheduled personal property endorsement: Covers high-value items such as jewelry, furs, coins, guns, and computers.
Water backup and sump overflow: Covers losses caused by water backup and sump overflow, which aren't covered under a basic home insurance policy.
Watercraft endorsement: Provides coverage for personal liability and medical payments to others when you operate certain watercraft.
Identity theft endorsement: Typically reimburses you for the costs of restoring your identity.
In addition to your home insurance policy, you can also purchase an umbrella policy that provides additional liability coverage beyond the limits of your policy. Your umbrella insurance comes into play if a judgment against you exceeds the limits of your home insurance policy.
Benefits of an Independent Agent 
Owning a home can be exciting, but dealing with risks like fire, theft, and other unexpected disasters can leave a lot to be desired. That's why the team at Mason-McBride is here to help! Our local independent insurance agent can help you shop around for the best rates and coverage for your needs. Our independent agents aren't tied down to one carrier, so we can obtain multiple quotes and help you make an informed choice.
Take Action to Safeguard Your Home
Find out how Mason-McBride can help safeguard your home and request a proposal.
For helpful tips on other popular topics, check out articles on: