It's Monday morning and you wake up in a panic knowing that you missed your alarm, again. After throwing on whatever clothing is closest to you and grabbing a banana for the road, you start driving to work as if you were in a high speed chase.
Knowing you'll be at least 20 minutes late, you grab your phone to text your manager. You search frantically for her contact and when you finally remember to look up, you're already halfway into the other lane and there's a minivan directly in front of you. There is no time to stop and you rear end the car going 81 mph. The other driver didn't survive, the 3 kids in the car badly injured, and you came out with 4 fractured ribs.
Was it worth it?
In 2018, about 1.5 million car accidents were caused by cell phone usage which resulted in roughly 6,000 fatalities. Whether you're late for work or are mindlessly checking your Instagram feed, it's not worth the life of you or someone else.
It Really is an Addiction
The problem is that sometimes we just can't help picking up our phone. You get that itching feeling that you just have to check your messages or your Facebook feed. That itching feeling is called cell phone addiction.
They say recover starts with admitting you have a problem, so consider step one complete. The average person is addicted to their phone, spending over 4 hours per day scrolling through Facebook, Snapchat, and whatever other app they have on their phone. That's more than half of the time that we spend sleeping and more than double the amount of time we spend eating, just to put it in perspective.
If you spend more than 10 minutes in the car every day, odds are you pick up your phone at least once. That one time takes your eyes off the road for 5 or so seconds and at 55 mph in the 5 seconds you've traveled the length of a football field.
Not convinced that you could be addicted to your cell phone? Take the Smartphone Compulsion Test provided by the Center for Internet and Technology Addiction. It's a short 15 question, yes or no quiz that determines if you could be addicted to your phone. Be prepared for some unsatisfactory results.
The alarming problem with cell phone addiction and distracted driving is that it's become the norm. People know that it's dangerous to text while driving but continue to do it anyway. Travelers Insurance completed a survey of 1,000 customers and the results were that 77% of drivers admitted to making calls while driving, 44% send texts or emails, and 31% said they've had a near miss because of being distracted.
Take the Pledge to End Distracted Driving
With April designated as Distracted Drivers Awareness month, the team at Mason-McBride Inc. urges you to take the National Safety Council safe-driving pledge. We all make mistakes and accidents happen, but making an effort to beat cell phone addiction and distracted driving is something you can control.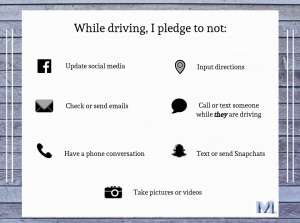 I pledge to Just Drive for my own safety and for others with whom I share the roads. I choose to not drive distracted in any way – I will not:
Have a phone conversation – handheld, hands-free, or via Bluetooth
Text or send Snapchats
Use voice-to-text features in my vehicle's dashboard system
Update Facebook, Twitter, Instagram, Vimeo or other social media
Check or send emails
Take selfies or film videos
Input destinations into GPS (while the vehicle is in motion)
Call or message someone else when I know they are driving
Take the risk out of your morning commute and sign the pledge here.
Have More Questions?
If you have any questions about your coverage, or to review your policy limits, please contact us. For helpful tips on other popular topics, check out our articles on Cyber Insurance, Winter Home Protection, and Ransomware Developments. As always, we are here to help you, your employees, and your business with all your insurance needs — from commercial insurance to group benefits to personal insurance. Thank you for allowing Mason-McBride to serve you!