When your homeowner's insurance policy renews, there are a few factors to keep in mind about the replacement cost of your home. You may see an increase in your replacement cost from your carrier this year. So, we are providing a deeper dive into the reasons for the possible increases.
Reasons for Possible Increases in the Replacement Cost of Your Home
A Worldwide Pandemic Occurred
As we all know, March 2020 saw our world change with the start of the worldwide pandemic.
As COVID-19 spread across the United States, families quarantined at home and people worked remotely when possible. This was an opportune time to work on primary residences. People moved forward with do-it-yourself projects such as home improvements, additions, and deck renovations.
Sawmills Stopped Producing Lumber
While COVID-19 restrictions on businesses brought new remote working challenges and perhaps additional time for home improvement projects, many industries came to a grinding halt. Sawmills were among industries witnessing a standstill, stopping lumber production.
Classic Case of Supply-and-Demand
Lumber production stopped. But the demand for lumber didn't. Homeowners forged ahead with their home improvement projects, purchasing lumber in large quantities. Since sawmills were closed, the wood supply dwindled.
This scenario continues today. As of the week of March 11, 2021, the price of lumber is at an all-time high of $1,044, according to Forbes.  Lumber prices are also up 188% since the beginning of the pandemic. The higher lumber prices have added at least $24,000 to the price of a typical new single-family home, according to the National Association of Home Builders.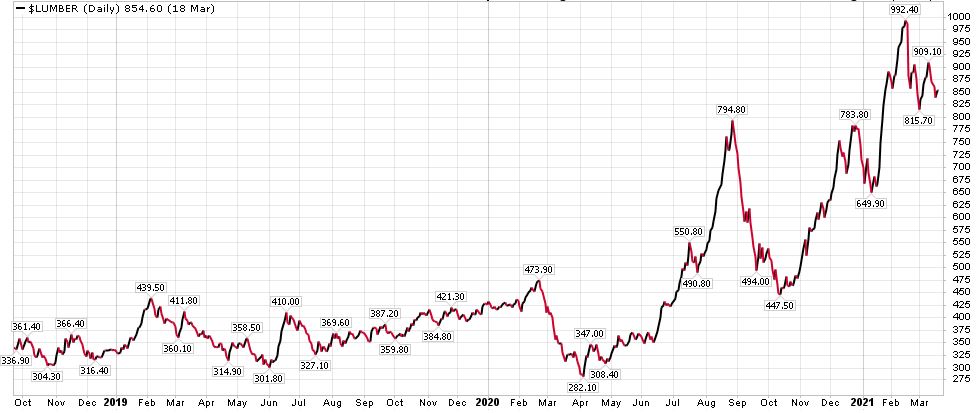 Lumber prices, October 2018 – March 2021. Graph courtesy of StockCharts.com
New Home Sales Increased in 2020 as Compared to 2019
Even though Americans faced pandemic lockdowns, new home sales increased tremendously in 2020 as compared to 2019.
According to the National Association of Home Builders, new home sales in 2020 saw an 18.8 percent gain as compared to 2019. The median home sales price in 2019 was $329,500. In 2020, the median home sales price was $355,900. 
"While the market remains solid, median home prices are increasing due to higher building material costs, most notably softwood lumber, and a shift to larger homes," said NAHB Chief Economist Robert Dietz.
Home Inventory Remains Low
Overall, the number of homes available for sale remains low. New home builders have ramped up production to meet the needs of homebuyers. 
But, increased building means more construction materials are necessary. This situation also demonstrates a typical supply-and-demand scenario when demand for building materials is high and the supply is low.
New Home Sales Increased Across all U.S. Regions
According to the National Association of Home Builders, new home sales increased in all regions of the country last year. The Midwest saw the largest increase at 24.2 percent. Increases were 21.2 percent in the Northeast, 18.9 percent in the West, and 17.6 percent in the South.
Insurance Carriers Address Possible Increases to the Replacement Cost of Your Home
Independent insurance agencies, including Mason-McBride, have been receiving communications from insurance carriers. The notices address the rising costs of building materials, which in turn is increasing replacement costs of homeowner's insurance. 
So, insurance carriers want to ensure policyholders have adequate building coverage limits to properly protect them in the event of a total home loss.
Review Your Coverage A Limits
These building coverage limits can be seen in Coverage A. This is the dwelling coverage amount of your homeowner's policy. This coverage protects your home from damage to the physical structure (wall, floors, ceilings, etc.) and anything that is permanently attached to the structure.
For example, if your Coverage A limits are lower than $150 per square foot, your policy may be reviewed by the carrier's underwriting department to verify your replacement cost estimation.  
Your policy may need to be adjusted for adequate coverage. Some carriers will utilize their field inspectors to conduct more home inspections, providing accurate estimations of home replacement values. 
Questions or Concerns About Your Homeowner's Insurance Replacement Cost?
If you have any questions about your coverage, or to review your policy limits, please contact us. For helpful tips on other popular topics, check out our articles on Cyber Insurance, Winter Home Protection, and Ransomware Developments. As always, we are here to help you, your employees, and your business with all your insurance needs — from commercial insurance to group benefits to personal insurance. Thank you for allowing Mason-McBride to serve you!